Should You Get Professional AI Headshots for Your Team?
Updated on October 9, 2023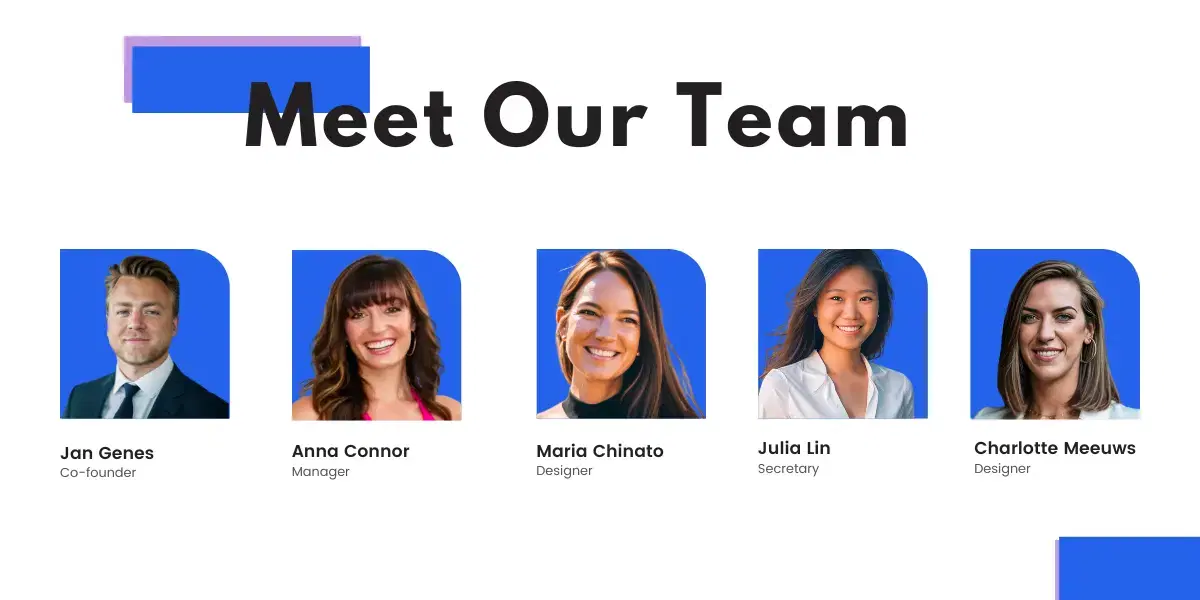 Headshots play a crucial role in establishing a company's online presence. They humanize the brand, instill trust in potential customers, and can help to attract top talent.
For many small- to medium-sized companies, getting headshots can be prohibitively expensive.
This is where AI headshots come into play. By utilizing artificial intelligence, AI headshots can rival or even surpass traditional headshots in terms of professionalism. Some of the benefits of AI headshots over traditional photography include
Ability to tailor everyone's headshots to the organization's needs  
Perfect for remote teams who don't work in the same area but need consistent headshots
Great if your team's budget is limited
Significant time savings since corporate staff won't have to take time off work to get a headshot
No need for employees to be good at posing
Quick results - turnaround time tends to be less than 2 hours
What Are The Benefits Of AI Headshots?
1. Put a face to the organization with a "Meet Our Team" page
A "Meet Our Team" page is an excellent opportunity to showcase your company's identity and expertise. However, lacking professional headshots for your team can create an impersonal and untrustworthy image.

AI headshots simplify the process of creating a professional "Meet Our Team" page. Instead of arranging a photographer, studio, editing and everyone's time, simply upload photos of each team member to generate consistent and professional headshots for the entire team.

2. Enhance your corporate sales team's credibility on LinkedIn
For your sales team, LinkedIn profiles serve as the first impression they make on potential customers. A professional headshot can significantly contribute to building trust and credibility.

AI headshots streamline the creation of professional LinkedIn profiles. With just a photo upload, the AI system will generate perfectly sized headshots optimized for LinkedIn.

3. Strengthen internal communication for remote teams


With more teams transitioning to remote work, establishing connections and fostering relationships between team members has become increasingly important. Utilizing headshots can help to facilitate this process.

AI headshots enable you to effortlessly create a professional profile photo that employees can use for internal communications.

4. Utilize team photos on social media for employee branding and recruitment
Employee branding revolves around cultivating a positive company image and positioning it as an attractive workplace. Sharing photos of your team members on social media is an effective way to achieve this goal.

Through AI headshots, you can create visually appealing social media posts that showcase your team members in a professional light. This will help humanize your company and make it more attractive to potential recruits.


5. Save time and money with AI headshots
Traditionally, creating professional headshots for an entire team can be a time-consuming and costly process. AI headshots offer a faster and more affordable alternative.
In the US, the average cost of a professional headshot is $250, for just one single style. AI eliminates the need for hiring photographers or spending excessive time on editing and retouching. This allows you to create high-quality headshots with multiple styles at a fraction of the cost and time spent.  

How to make AI headshots for teams?
Embraced by the C-suite, the Multiverse AI has been used by everyone from Senior Directors at consulting firms, heads of AI at Fortune 500 companies, and startup founders, in addition to professionals from Google, McKinsey and Forbes.
Contact info@themultiverse.ai to get professional headshots made for your team.